Instead of pretending to be objective and creating a list of "greatest" films of all time, here's my list of 100 movies I really love, with a few comments on the top ten. Some things about movies I appreciate: a distinct sense of directorial style, visual flair, movies that make me think about the world or about film in a new way, movies that are innovative or unique, and movies that are completely committed to their task. Undoubtedly, if I were to make a "greatest" film list there would be much crossover but, for now, I'll just list a number of my favourite films of the 2900 or so I've seen. 
1. Winter Light (1963) – Ingmar Bergman 
For years I preferred The Seventh Seal and Persona, and on another day either of those might be number one, but I recently watched Winter Light again and was reminded of its brilliance. It's a simple Bergman film about a rural Swedish minister, and not only is it a beautiful example of Sven Nykvist's stunning cinematography, but it also deals with themes of faith and doubt in a way that has never been repeated in cinema history. 



2. Ikiru (1952) – Akira Kurosawa
As jaded and anti-emotional as I sometimes am, one of the few films that brings me to tears is Akira Kurosawa's Ikiru, a 1952 drama about an aging bureaucrat who discovers he has just weeks to live and regrets his wasted life. It's not a fear I have at the moment, but it's a fear I fear I will have and Kurosawa portrays it with heart-breaking realism.


3. All That Heaven Allows (1955) – Douglas Sirk
As much as I love the themes, which challenged social values in conservative 1950s America, what first attracted me to this film were the stunning technicolor visuals. Shadows, mirrors and bold colour make Douglas Sirk's All That Heaven Allows a treat for the eyes, and a film I find myself returning to again and again.




4. The 400 Blows (1959) – Francois Truffaut
Of all the great French New Wave films, The 400 Blows is one I rewatch most often and the one I most enthusiastically recommend to interested people. I usually dislike films about children, but The 400 Blows is a exception because of its heart, realism, honesty and style.

5. Stop Making Sense (1984) – Jonathan Demme
Even if you hate the band Talking Heads, you've gotta love this film. So incredibly inventive and fresh, even after many viewings, the film still surprises me, much more so than other great rock documentaries like Scorsese's The Last Waltz. David Byrne is a genius…and Jonathan Demme captures it.


6. Annie Hall (1977) – Woody Allen
Chock full of post-modern meta madness, the film is Woody Allen at his best (and I've seen them all). A film that is simultaneously hilarious, self-depricating and wildly creative. A favourite film that I never tire of watching.









7. One, Two, Three (1961) – Billy Wilder
One, Two, Three is not a well-named film, nor is it as well-known as other Billy Wilder classics, but it's the best written comedy I've seen. A satire of the cold war, One, Two, Three's dialogue is incredibly bold, rapidly delivered, and just plain hilarious.





8. In the Mood for Love (2000) – Wong Kar-Wai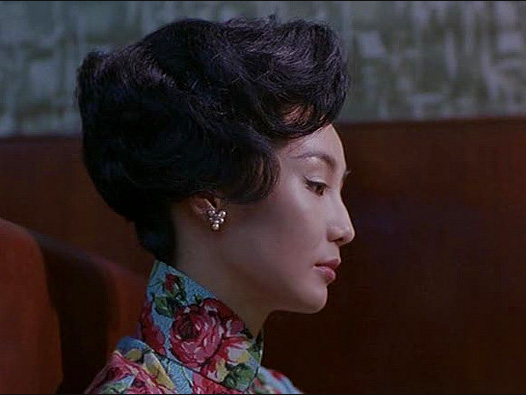 As the title suggests this film is about mood, and that mood is created by Hong Kong director Wong Kar-Wai's brilliant use of colour, slow motion, music and mis-en-scene. On the other hand, sometimes I watch this film just to look at all of Maggie Cheung's dresses.






9. 8 1/2 (1963) – Federico Fellini
Any creative person should be able to relate to this Fellini masterpiece, a film about a movie director struggling to come up with an idea for his new film. Others have tackled similar themes, but no one has created a masterpiece out of a mess the way Fellini did in 8 1/2.



10. Sholay (1975) – Ramesh Sippy
I have no idea whether all the humour in Sholay is intended or not. Regardless, I've never had so much fun watching a three hour long movie as I did watching this icon of Bollywood cinema. A melding of action, comedy, drama, western and romance, Sholay is about as enjoyable as I could expect any film to be.




11. The Seventh Seal (1957) – Ingmar Bergman
12. Seven Samurai (1957) – Akira Kurosawa
13. Breathless (1960) – Jean-Luc Godard
14. Persona (1966) – Ingmar Bergman
15. Aguirre, The Wrath of God (1972) – Werner Herzog 
16. Do The Right Thing (1989) – Spike Lee
17. Taxi Driver (1976) – Martin Scorsese
18. Solaris (1972) – Andrei Tarkovsky
19. Ugetsu (1953) – Kenji Mizoguchi
20. The General (1926) – Buster Keaton
21. The Wizard of Oz (1939) – Viktor Fleming
22. Scenes from a Marriage (1973) – Ingmar Bergman
23. Before Sunrise (1995) – Richad Linklater
24. My Winnipeg (2007) – Guy Maddin
25. Ordet (1955) – Carl Dreyer
26. Greed (1924) – Erich von Stoheim
27. The Killer (1989) – John Woo
28. Vivre sa Vie (1962) – Jean-Luc Godard
29. The Battle of Algiers (1966) – Gillo Pontecorvo
30. Touch of Evil (1958) – Orson Welles
31. Antichrist (2009) – Lars von Trier
32. The Passion of Joan of Arc (1928) – Carl Dreyer
33. Eyes Without A Face (1960) – Georges Franju
34. The Apartment (1960) – Billy Wilder
35. Stalker (1979) – Andrei Tarkovsky
36. Germany Year Zero (1948) – Roberto Rossellini
37. The Conformist (1970) – Bernardo Bertolucci
38. Shadows in Paradise (1986) – Aki Kaurismaki
39. Secrets and Lies (1995) – Mike Leigh
40. Back to the Future (1985) – Robert Zemeckis
41. Harakiri (1962) – Masaki Kobayashi
42. M (1931) – Fritz Lang
43. Mr. Smith Goes to Washington (1939) – Frank Capra
44. High Noon (1952) – Fred Zinnemann
45. The 49th Parallel (1941) – Michael Powell
46. Metropolis (1927) – Fritz Lang
47. Mishima: A Life in Four Chapters (1985) – Paul Schrader
48. Lawrence of Arabia (1962) – David Lean
49. Sideways (2004) – Alexander Payne
50. Double Indemnity (1944) – Billy Wilder
51. The Night of the Hunter (1955) – Charles Laughton
52. Raise the Red Lantern (1991) – Zhang Yimou
53. The Rules of the Game (1939) – Jean Renoir
54. La Dolce Vita (1960) – Federico Fellini
55. Au Hasard Balthazar (1966) – Robert Bresson
56. Sunrise: A Song of Two Humans (1927) – FW Murnau
57. Vertigo (1958) – Alfred Hitchcock
58. What Ever Happened to Baby Jane? (1962) – Robert Aldrich
59. Fargo (1995) – Joel and Ethan Coen
60. Wild Strawberries (1957) – Ingmar Bergman
61. Mon Oncle Antoine (1971) – Claude Jutra
62. Le Samourai (1967) – Jean-Pierre Melville
63. L'Age D'Or (1930) – Luis Bunuel
64. Werckmeister Harmonies (2000) – Bela Tarr and Agnes Hranitzky
65. Jeanne Dielman…(1975) – Chantal Akerman
66. Wings of Desire (1987) – Wim Wenders
67. A Night to Remember (1958) – Roy Ward Baker
68. Goodfellas (1990) – Martin Scorsese
69. The Big Lebowski (1998) – Joel and Ethan Coen
70. Johnny Guitar (1954) – Nicholas Ray
71. The Song of Bernadette (1943) – Henry King
72. Nostalghia (1983) – Andrei Tarkovsky
73. Hannah and Her Sisters (1986) – Woody Allen
74. Citizen Kane (1941) – Orson Welles
75. The Godfather (1972) – Francis Ford Coppola
76. Dead Ringers (1988) – David Cronenberg
77. Playtime (1967) – Jacques Tati
78. Oldboy (2003) – Chan-wook Park
79. Schindler's List (1993) – Steven Spielberg
80. The Decalogue (1989) – Krzysztof Kieslowski
81. Underground (1995) – Emir Kusturica
82. Berlin Alexanderplatz (1980) – Rainer Werner Fassbinder
83. Belle de Jour (1967) – Luis Bunuel
84. Blade Runner (1982) – Ridley Scott
85. Casablanca (1942) – Michael Curtiz
86. Where is the Friend's Home (1987) – Abbas Kiarostami
87. Der Golem (1920) – Carl Boese and Paul Wegener
88. I Am A Fugitive From a Chain Gang (1932) – Mervyn LeRoy
89. Kind Hearts and Coronets (1949) – Robert Hamer
90. The Times of Harvey Milk (1984) – Rob Epstein
91. Nausicaa of the Valley of the Wind (1984) – Hayao Miyazaki
92. Paths of Glory (1957) – Stanley Kubrick
93. The Gold Rush (1925) – Charlie Chaplin
94. The Heart of the World (2000) – Guy Maddin
95. Jason and the Argonauts (1963) – Don Chaffey and Ray Harryhausen
96. Bicycle Thieves (1948) – Vittorio de Sica
97. Come and See (1985) – Elem Klimov
98. Day of Wrath (1943) – Carl Dreyer
99. Silent Light (2007) – Carlos Reygadas
100. Unforgiven (1992) – Clint Eastwood
Subject to significant change without notice…